Tailored package
Where dreams comes true..
Your private spa in Eastern ambiance and luxury comfort with 1001 options.
Do you have a creative mind and want to give your spa visit a unique twist?
We are happy to help you create a new concept!
Below you will find possible additions to your package:
1. Basic Bouquet € 15
20 small roses (white or red)
2. Luxury Bouquet € 25
20 large roses (white or red)
3. (Romantic) Decoration Package € 14.95 Decoration:
– Balloons
– Extra romantic decoration: roses, flowers, rose petals and (real) candles
– Personalized: Rose petals with initials / heart shape / letters or numbers of your choice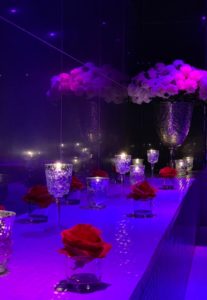 A few other examples:
renting the Spa for a complete day; a theme with decoration;
special catering; luxury transportation;
professional photographer ….
The possibilities are endless!
You can contact us by telephone or e-mail so we can make your dreams come true!
020 – 334 57 95
info@spa1001.nl
Make your reservation to be assured of your private spa on the desired date!